Rock Tamers
Mudflap Systems for Trucks
Last Update: October 1, 2023
Rock Tamers offer convenient, fully adjustable hitch mount mud flaps for trucks with
2"
,
2.5"
, and 3" hitch receivers. These complete mud flap systems feature everything needed to assemble the ultimate protection solution for what you tow. Rock Tamers mud flaps are more than your stock mud flaps, designed for heavy-duty towing.
There are three options of hitch-mount mud flaps available at Rock Tamers. Their precisely designed system allows you to adjust your mud flaps the way you need for your specific truck and your towable. If you do not want your vehicle and towable to get damaged by flying rocks and road debris, consider the protection before it's time to tow. Rock Tamers mud flap systems adjust vertically and horizontally for precise fit and maximum coverage.
Rock Tamers understands that mud flaps tend to wear out with time, so any component of the mud flap system can be purchased separately and replaced. So, buying an all-new mud flap system is unnecessary, as you can fix your mud flaps when some components get worn out. Note that a limited 1-year warranty against defects in materials and workmanship backs up Rock Tamers mud flaps. However, normal wear and tear is typical for all parts and is not a reason for a warranty claim. But you can always contact customer care to clarify the situation and figure out a way that will be fair for everyone.

Towing Aerodynamics Basics
Why You Need Heavy-Duty Mud Flaps
These two pictures clearly explain what happens between your truck and towable when you move. Air whirl appears, and road debris and particles get between the car and the towable. When the vehicle's rear end is not protected, the particles damage the paint and may cause dents and dings, leading to rust and corrosion.
When the rear wheels of a towable rotate, they tend to collect rocks and debris in the wheel tread. These objects, influenced by the centrifugal force, may fly out of the wheel tread and cause damage to the towable. Repairing such damage can be quite expensive, particularly when it comes to rust and corrosion caused by dents and chips. Often, these repairs involve welding, cutting, shaving, trimming, prep, and a paint job.
These two aspects clearly explain why it is better to install a set of quality heavy-duty hitch-mounted mud flaps and forget about all the hassle and potential problems that may occur unexpectedly. Hitch-mounted mud flap systems are easily removable, and installation is quick enough. It means you can install your mud flaps when you tow something and remove them when you do not need extra protection for your truck's rear end. If you select heavy-duty mud flaps, you will be covered for a long time, as almost any part of the mud flap system can be replaced when worn out or damaged.
Adjustable Rock Tamers Mud Flaps: Overview
Adjustable width (66.75'' – 93.75'');
Support rods are made of heavy gauge aluminum;
Support rods are anodized to withstand corrosion;
The center hub and arms are made of aluminum that will not corrode or rust;
Mounting hardware is made of stainless steel;
Mud flaps can be cut to fit your vehicle application better;
Trim plates are stainless steel;
The back of mud flaps features an anti-splash pattern;
Rubber mud flaps are 27'' x 27'' and are molded with tear-resistant fabric.
---
✏ Authors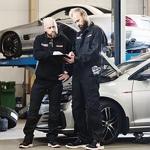 Our team is anxious to share information about aftermarket mud flap systems for cars and trucks.
We know that there are so many details and things people need to know before buying a set of mud flaps for their vehicles, so we have decided to share all the info in one place.
---
Rock Tamers Mudflap Systems – Reviews
Sep 4, 2023
Toyota Tacoma
City, State:
Cambridge, MA
A Game Changer! Ever since I installed RockTamers hitch mounted mud flap system on my truck, I've seen a remarkable difference. Not only does it look sleek, but it also keeps the back of my rig and anything I'm towing much cleaner. Easy to install and adjust, I'd recommend it to any truck owner in a heartbeat.
Jul 15, 2023
Jeep Patriot
The adjustable feature of the RockTamers hitch-mounted mud flap system is a game-changer. I love that I can customize it to fit my needs. My truck's rear and towed cargo have never been this clean.
Jun 23, 2023
Ford Flex
City, State:
Amsterdam, NY
Living in an area with unpredictable weather, I needed something reliable. RockTamers proved to be the rugged guardian my truck deserved. Rain or shine, mud or snow, they've got me covered.
Apr 23, 2023
Dodge Caravan
Worth Every Penny. My boat used to be splattered with grime after each towing trip, but not anymore. With RockTamers hitch mounted mud flap system, everything stays clean and protected. The initial investment is nothing compared to the peace of mind and cleanliness it provides.
Mar 24, 2023
Ram 2500
City, State:
Westerville, OH
Next Level Truck Care. Towing my RV used to be a messy affair. But with RockTamers in place, it feels like I've upgraded to premium protection. The system was a breeze to install, and the difference is night and day.