Rock Tamers
Mudflap Systems for Trucks
Last Update: June 4, 2023
Rock Tamers offer convenient fully adjustable hitch mount mud flaps for the trucks with 2'' and 2.5 '' hitch receivers. These are complete mud flap systems that feature everything needed to assemble ultimate protection solution for what you tow. Rock Tamers mud flaps are more than your stock mud flaps, as they are designed for heavy-duty towing.
The Best Protection You Can Get
As an Amazon Associate we earn a small fee from qualifying purchases.
There are only 2 options of hitch-mount mud flaps available at Rock Tamers. Their precisely designed system allows adjusting your mud flaps the way you need, for your specific truck and for your towable. If you do not want your truck and towable get damaged by flying rocks and road debris, think of the protection before it's time to tow. Rock Tamers mud flap systems adjust vertically and horizontally for precise fit and maximum coverage.
Rock Tamers understands, that mud flaps tend to wear out with time, so any component of the mud flap system can be purchased separately and replaced. So there is no need to buy all-new mud flap system, as you will be able to fix your mud flaps when some components get worn out. Note, that Rock Tamers mud flaps are backed up by limited 1-year warranty against defects in materials and workmanship. However, normal wear and tear is normal for all parts, and is not a reason for a warranty claim. But you can always get in touch with customer care to clarify the situation and figure out the way out that will be fair for everyone.

Towing Aerodynamics Basics
Why You Need Heavy-Duty Mud Flaps
These two pictures clearly explain, what happens between your truck and towable when you move.There appears air whirl, and road debris and particles get between the truck and towable. When the rear end of the vehicle is not protected, the particles damage the paint and may cause dents and dings, which further leads to rust and corrosion.
On the other hand, when the rear wheels rotate, road rocks and debris get stuck in the wheel tread. Influenced by centrifugal force, they can get out the wheel tread and cause damages to the towable. Cost of such repairs can be quite high, especially when it comes to rust and corrosion, caused by dents and chips. Quite often such repairs include welding, cutting, shaving, trimming, prep and paint job.
These two aspects clearly explain, why it is better to install a set of quality heavy-duty hitch-mounted mud flaps and forget about all the hassle and potential problems that may occur unexpectedly. Hitch mounted mud flap systems by Rock Tamers are easily removable, and installation is quick enough. What it means to you, you can install your mud flaps when you plan on towing something and remove them when you do not need extra protection for your truck's rear end. If you select heavy-duty mud flaps by Rock Tamers, you will be covered for a long time, as almost any part of the mud flap system can be replaced when it's worn out or damaged.
Adjustable Rock Tamers Mud Flaps: Overview
Adjustable width (66.75'' – 93.75'');
Support rods are made of heavy gauge aluminum;
Support rods are anodized to withstand corrosion;
Center hub and arms are made of aluminum that will not corrode or rust;
Mounting hardware is made of stainless steel;
Mud flaps can be cut to better fit your vehicle application;
Trim plates are stainless steel;
Back of mud flaps features anti-splash pattern;
Rubber mud flaps are 27'' x 27'' and are molded with a layer of tear-resistant fabric.
The Best Protection You Can Get
As an Amazon Associate we earn a small fee from qualifying purchases.
---
✏ Authors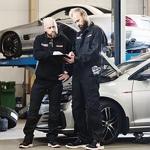 Our team is anxious to share every bit of information we have about aftermarket mud flap systems for cars and trucks.
We know that there are so many details and things people need to know before buying a set of mud flaps for their vehicles, so we have decided to share all the info in one place.
---
Rock Tamers Mudflap Systems – Reviews
Mar 23, 2022
2018 RAM 3500 Dually
Want to order replacement support rods, the SS Pipe holding up the mud flap. Can not find any. There are some available for the single rear wheel width, but none that I can find for the dually width.
Mar 21, 2022
Honda Ridgeline
I like these mud flaps. Good investment. Recommed to anyone who is into towing.
Mar 21, 2022
2019 Nissan Frontier
City, State:
Elizabethtown, KY
I've got a brand-new truck and just wanted to protect it from debris flying from the wheels. Rock Tamers is the way to go!
Mar 4, 2022
2017 Chevy Colorado
Good full-size mud flaps for those, who tow. I remove them when I am not planning to tow anything with my Colorado truck. I like the way they adjust, especially when the ride height changes because of cargo/towable. I haven't seen the other assembly, that would adjust the same way.
Feb 28, 2022
Chevrolet Silverado 3500HD
City, State:
Long Lake, WI
I am into fishing, so quite often I tow a boat with my Silverado truck. Rock Tamers I picked up from Amazon are a good thing to have for those, who want to protect their truck and towable. A good investment for the money.