RockStar Mud Flaps

RockStar is one of the leading manufacturers of hitch-mounted mud flaps for US-built trucks. The key feature of these mud flap systems is that they are designed and made by Americans and for Americans.
RockStar Design
So, what else makes RockStar so unique? Their model-specific design! It utilizes the contour shape better to complement your truck's style and aerodynamic specs. Besides, these mud flaps feature a frame that will never corrode or rust, as it is made of aluminum.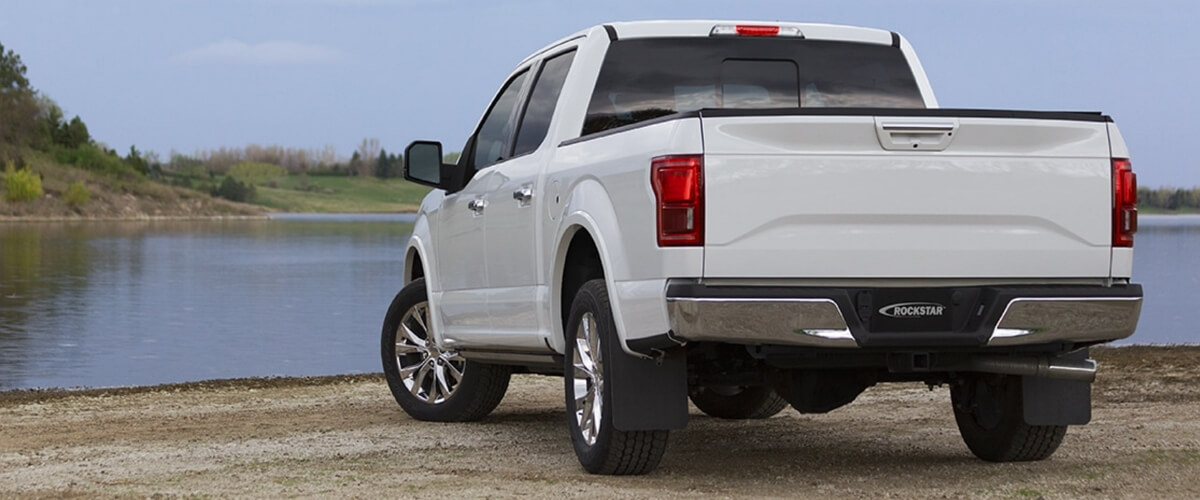 This material is resistant to corrosion and is also very lightweight, which is another benefit of mud flaps by RockStar. The hardware and stabilizer bar is made of stainless steel. A large stabilizer plate is designed to eliminate rocking, while the extra-thick rubber minimizes sailing.
Why Buy Mudflap Systems by Rockstar?
When adventure calls, and you find yourself towing sizable cargo, RockStar ensures you're equipped with unparalleled protection.
These mud flaps feature a corrosion-resistant aluminum frame fortified with a stabilizer plate that negates rocking.
The half-inch rubber prevents flapping during transit, ensuring an efficient protective measure.
Catering to varying needs, RockStar offers four distinct sizes in two finishes. Opt for the Large [L] or Extra Large [XL] guards for comprehensive tire coverage, while the 2 Extra Large [2XL] provides enhanced coverage, especially for trucks with offset tires.
Dually pickups get the most extensive protection with the 3 Extra Large [3XL] versions.
For those with oversized tires or modified suspensions, our trim-to-fit applications are tailored to serve you best.
When loading, a 5 to 7-inch ground clearance for these mud flaps should be reduced to 3 inches to prevent dragging. These flaps are expertly designed to fit OEM receivers and bumpers seamlessly, though compatibility with aftermarket products may vary. The model-specific design perfectly matches your bumper and caters to OEM dual exhaust flow with perforated rubber. The universal design fits vehicles with a center bumper step and is compatible with specific RAM and Chevy/GMC models.
A bonus: For Chevy/GMC 2500 and 3500 models, a standard heat shield for model-specific designs is recommended for the universal variant.
Installation: Tips and Tricks
Ease of assembly is at the heart of RockStar's design. The adjustable 2-inch clamp attaches to the ball mount without any drilling. The thick rubber reduces sailing, and limits mud and ice accumulation, tested to withstand temperatures up to 250° F. Installation is a breeze, with vinyl-capped stops for accurate receiver pin alignment.
The frame offers access to receiver pins, safety chains, and wiring. With just one tool, these mud flaps can be installed without drilling, designed to shield against rocks and road debris, ensuring your vehicle's resale value remains unaffected by damages. Durable and reliable, RockStar hitch-mounted mud flaps combine strength, style, and utility, making them the top choice for towing protection, available in sizes to fit your specific needs, be it pickups, SUVs, trucks with unique tire configurations, or dually trucks. Choose RockStar and journey with confidence, shielded against the uncertainties of the road.
Are RockStar Mud Flaps Hard to Install?
Not at all! You do not need special tools or technical skills to install, remove, or re-install these mud flap systems. To remove mud flaps, you will need to pull the receiver pin.
Which design of RockStar mud flap systems do I need?
There are 4 models; these mud flap systems are available to offer the proper level of towing protection and style. Let us take a closer look at the key specs of the RockStar mud flaps.
| Design type | Why buy? | Rubber part specs |
| --- | --- | --- |
| Standard | These mud flaps are designed to provide complete tire coverage. | The rubber part of the mud flap system extends 1'' beyond the frame. |
| XL | This design of the mud flap system features superb center coverage. The tire coverage is standard. | The rubber part of the mud flap system extends 1'' beyond the frame |
| 2XL | These mud flaps are designed for vehicles that are equipped with offset tires. You may also be interested in these if you are looking for better coverage. | The rubber part of the mud flaps extends 4'' beyond the frame. |
| 3XL | If you have a dually truck, the 3XL Rockstar mud flaps are the way to go! This mudflap system features maximum coverage. | The rubber part of the mud flaps extends 9'' beyond the frame. |
Who is the major competitor of RockStar?
Three popular manufacturers offer quality hitch-mounted mud flaps: RockStar, Rock Tamers, and Towtector. Each of these three is valued for quality, durability, and ease of installation of their products. Even though their products seem similar, there are so many differences! Check our specs for every brand to make the final decision.