Universal Mud Flaps
Universal mud flaps are not designed for a specific year, made and model of a vehicle. They feature certain dimensions, and based on them you can see whether they will fit your vehicle or not. There are so many universal mud flaps, so when it comes to picking just one set for your car, truck or SUV, it may be hard to pick just one set.
We are here to help you better understand what types and kinds of universal mud flaps are available on the market, what are the best mud flap materials and what to consider when buying.
Types & Kinds
There are 3 main types of universal mud flaps:
Let us see what they are about and what is so special about every mud flap type.
Fender mounted mud flaps
As you see, these mud flaps differ based on the type of installation. You can find fender-mounted splash guards for any car, truck or SUV. Just pay attention to the dimensions. As a rule, they are mentioned in the product description.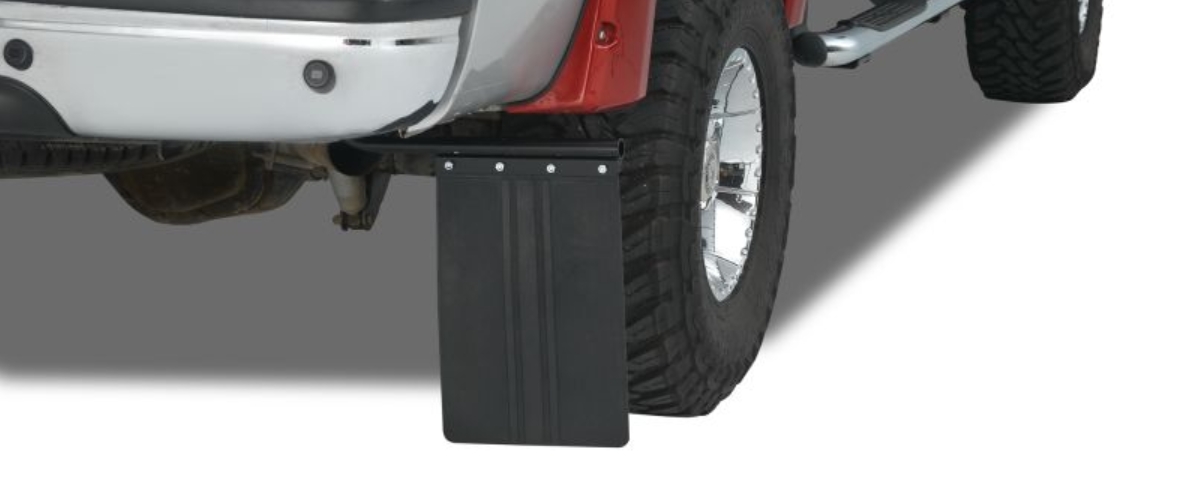 Fender mounted mud flaps are installed to the fender just behind the wheel. Normally they come with all necessary installation hardware. Installation is pretty simple: you will need to bolt your mud flaps to the fender. However, sometimes you will need to drill an extra hole for the mud flap.
Most popular fender mounted mud flaps
Rally Armor Universal Mud Flaps
Features & Specs
manufacturer's part number: MF12-BAS-BLK;
4 splash guards included (2 front, 2 rear);
hardware and brackets are included;
dimensions: 15'' (height) 12.5'' (width);
made in USA.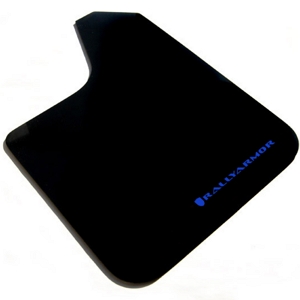 Check Rating, Price & Availability
Consider this:
no drilling required;
available in black with black, red or blue logo;
they are flexible enough;
easy cutting with wire cutters if needed;
Here are things that you need for installation: pen, ruler (for measuring), self tap screws and rubber washers.
Hitch mounted mud flaps
They are also universal and differ based on the hitch receiver size they work with. You will see the hitch receiver size noted in the product description, as well as the size of the mud flaps. Based on these characteristics you can select the product that will fit your specific vehicle.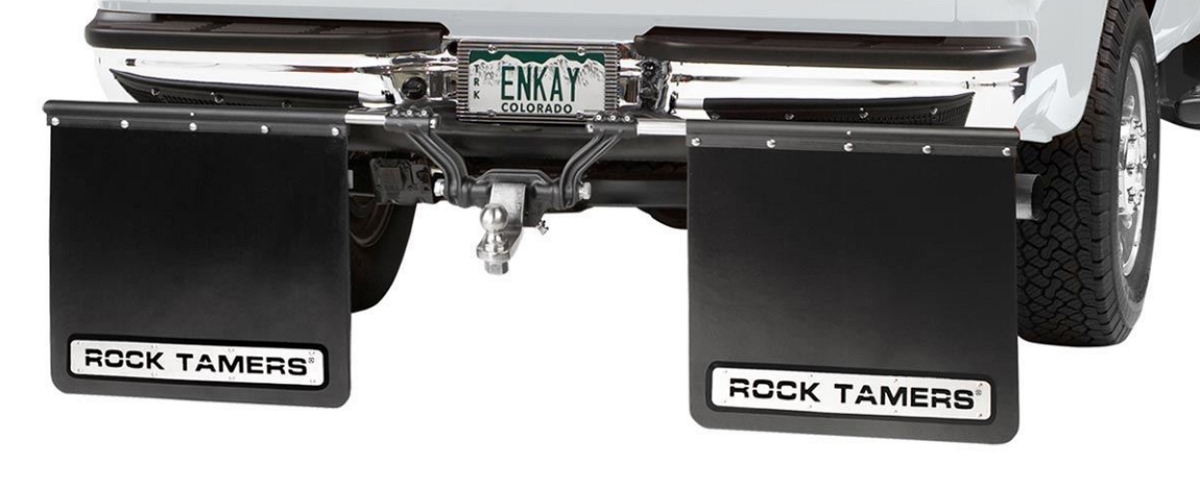 Hitch mounted mud flaps are extremely popular among truck and semi truck owners due to the specs of their construction. Installation of these mud flaps is also quite simple and does not require any extra modifications. Besides, you can remove these mud flaps when you do not need them and install them again. This feature is great for those, who often tow a boat or a trailer and need larger mud flaps from time to time.
Most popular hitch mounted mud flaps
Luverne tow guard for 2'', 2 ½'' and 3'' hitch receivers
Features & Specs
textured heavy-duty rubber;
steed frame with black powder coat finish;
⅜'' thick rubber;
comes factory-assembled for easier installation;
mounts to the receiver tube using a U-bolt;
can be easily removed when needed;
universal width: 72'' (can be trimmed for fit);
available in 2 length for trucks and SUVs that feature different ride heights;
made in USA;
limited lifetime warranty.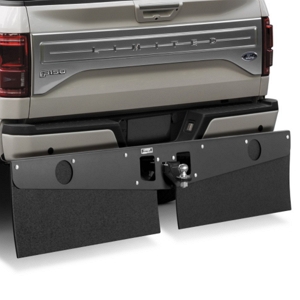 Check Rating, Price & Availability
Consider this:
a ball mount is not included;
if you have dual exhaust, you will need to trim out 4'' holes in rubber;
may not fit certain weight distribution shanks;
may not fit certain adjustable ball mount shanks.
Removable mud flaps
They feature a quick-release system that allows them to be installed within seconds by the pull of a pin. Each removable universal mud flap has a unique bracket with multiple holes allowing for numerous types of installations.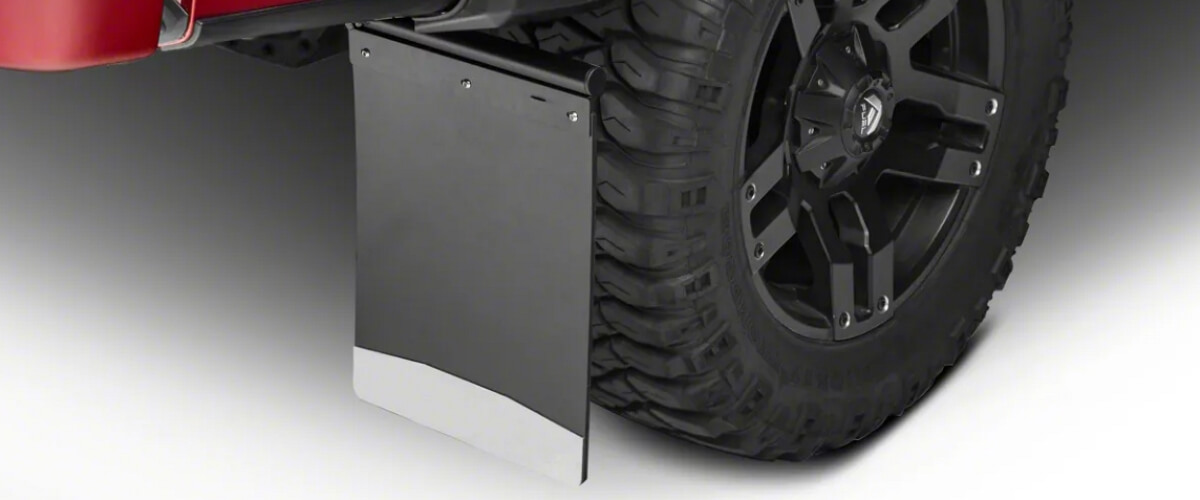 Besides, such mud flaps normally have a steel hanger that can be cut to match multiple tire and wheel offsets. Removable mud flaps are popular among truck, Jeep and SUV owners.
Most popular removable mud flaps
Aries Removable Mud Flaps
Features & Specs
You can mount them on any Jeep, truck or SUV with a universal bracket.
Rubber is ⅜'' thick.
pull-pin release system;
no-drill fit for the Jeep Wrangler JK;
universal brackets included;
sold in pairs with installation hardware included.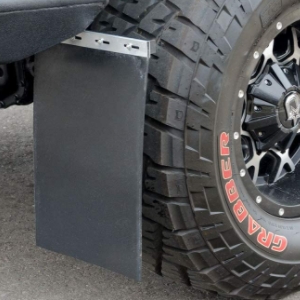 Check Rating, Price & Availability
Consider this:
22'' hanger can be cut to match different tire offsets;
rubber withstands temperature changes and sheds water;
brackets are powder coated steel.
---
✏ Authors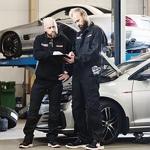 Our team is anxious to share every bit of information we have about aftermarket mud flap systems for cars and trucks.
We know that there are so many details and things people need to know before buying a set of mud flaps for their vehicles, so we have decided to share all the info in one place.
---