Every car owner knows, that it is always a good idea to protect the floor area of their vehicles by adding a quality set of mats. This way you will not only protect the factory carpeting from stains, but also keep the odors away. In future you will benefit from such investment, as you will not only keep your interior looking new, but will also keep the resale value of your vehicle high. So, investing in good floor protection will pay you back for sure.
There are so many aftermarket solutions for floor area protection. Custom, semi-custom and universal floor mats, floor liners with raised lips and soft carpet floor mats are designed for the major and most popular vehicle applications in the U.S.
However, floor mats are not just about protection, but also about the looks. You will see floor liners every day when you drive your car, truck or SUV, so it is a good idea to think of what they look and how they complement the vehicle's interior. Some floor liners offer excellent protection, but look too commercial, especially if you install them in a classic sedan or luxury SUV. It's not about the mats being bad, they just do not look right, that's the thing.
However, there are floor liners that not only provide excellent protection to the floor area due to the raised lips, but also look right in almost any vehicle you can think of. These mats are made by 3D MAXpider and are available in 3 colors:
They are available in 2 design options:
Kagu floor liners feature rubber exterior layer and are easy to wash. They feature carbon fiber pattern and do not look too rugged.
Classic 3D mats feature soft carpet on top of them and their 3D design allows keeping dirt, dust and debris inside. In other words, these are molded mats with carpet on top of them.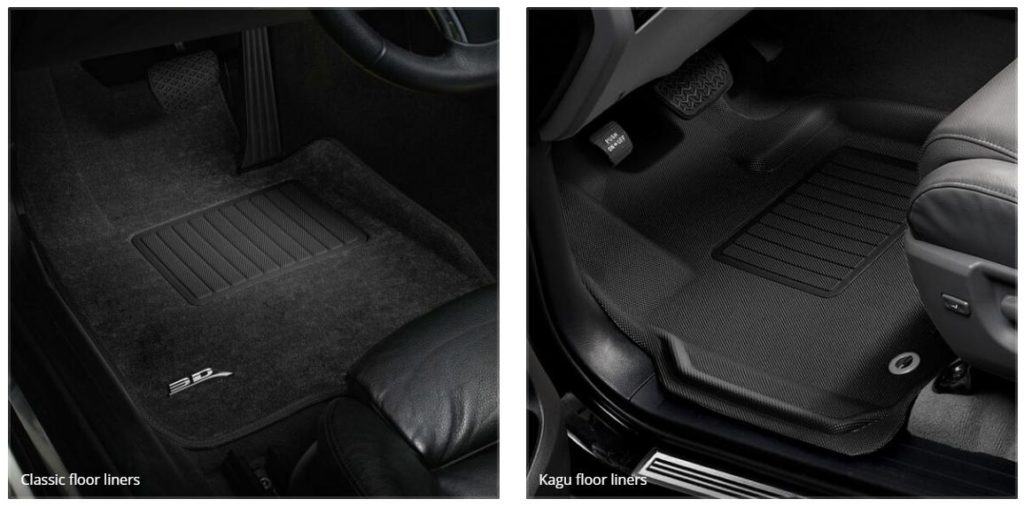 Find out more about these floor liners at the official 3D MAXpider website.